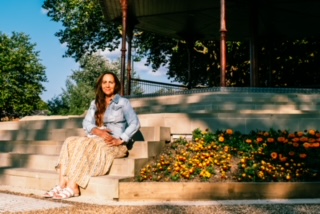 Solution Focused Hypnotherapist/Psychotherapist Anna Arnold
My goal in life is to help clients overcome their barriers to help them have a positive outlook on life and to be the best version of them self.

After my daughter left home to go to University, I decided to do the same as a Mature Student.

Learning again was a huge challenge for me but was so rewarding. In 2011 I graduated with a 2:1.

I then began working for a private mental health company that helped people struggling in life with many mental health issues. I was there for two years. During this time, I saw a lot of people struggling with anxiety, depression, and not being able to cope with life. What was on offer was not enough for what some people needed. I knew I had all the skills to help people recover from many things and completed an intense hypnotherapy diploma.
Why would you choose Solution Focused Hypnotherapy?

I suffered with Anxiety related issues and depression in my younger years. There were times when I found it hard to cope with the effects it had on me and my family. I wanted to try a more natural therapy and found Solution Focused Hypnotherapy.
During my experience I learned to focus on all the good things in my life. As a result, I became more positive and happier version of myself. I lost weight, and I was able to let go of stress and anxiety much easier. I became more focused, more energised and looked forward to every day. I learned to appreciate the small things in life and to let go of the past.

What my clients like about hypnotherapy sessions is that it is so different than what they may have thought, it has given them a positive perspective on this as an alternative to conventional methods. They feel so much more relaxed knowing we will not be going over and over their past problems. These issues cannot be changed. So instead, SFH allows them to build on what they have and can do now. The focus is on now and the future they would like. Many are astonished to see how quickly they start to see the results.

The best part of what I do each day is seeing my clients week by week change into the best version of themselves. Having seen people recover in the same way that I did, I am confident that I can help you. I am with you every step of the way.
BOOK AN APPOINTMENT